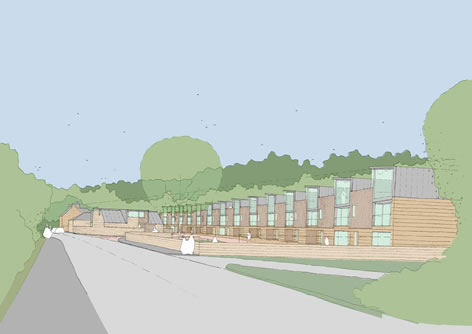 "... our approach to meeting client briefs ..."
Ironmills, Dalkeith
The appeal followed refusal of planning and conservation area consent for the demolition of garages and workshops, and the erection of 14 townhouses and a detached cottage. The site was in the Eskbank and Dalkeith Conservation Area and the design was prepared by Malcolm Fraser Architects.
The proposals were refused on the basis of overdevelopment and poor relationship with the adjacent properties. Conservation Area Consent for the demolition of properties was refused in the absence of a suitable design for the site.
PPCA Ltd prepared, submitted and argued the appeal case through written submissions. In the course of the appeal process the local authority sought to obtain contributions to the provision of school places but it was successfully argued that the local authority had not identified any essential infrastructure or environmental requirements directly related to the proposed development, including education impact.
The Reporter concluded that the local authority's wishes failed the tests in the Circular on a number of bases and declined to accept the local authority's position in that aspect.
The appeals were upheld, and conditional permission and consent granted.