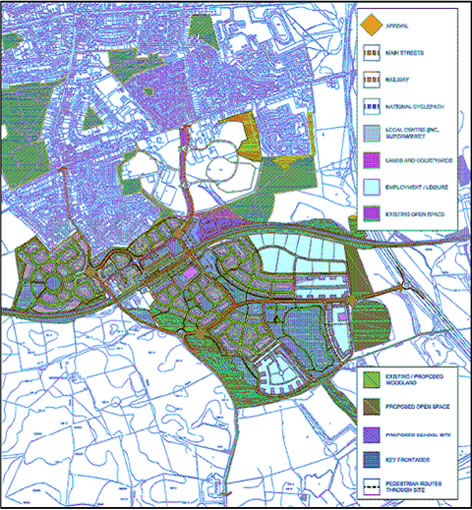 ... a direct and personal approach to meeting client briefs ...
Armadale, West Lothian
PPCA was commissioned to provide land use planning advice on the long term development of land for strategic housing and other mixed use development at Armadale Station by SDA Ltd. The proposals have been boosted by the re-opening of the Airdrie – Bathgate rail line and development of a new rail station at Armadale. The site forms part of the wider strategic allocation for residential and other development in the adopted West Lothian Local Plan 2008.
Planning permission in principle was granted for a mixed use development incorporating 1,000 homes, a new commercial centre, primary school and land for business uses. PPCA Ltd's involvement included input into the management of the planning application process and its associated Environmental Assessment and the co-ordination of planning applications for phase one development of the site, comprising residential, a new town centre and Primary School. Site development is now well underway. PPCA Ltd continues to provide land use planning advice through the emerging Strategic and Local Development Plans for the area.